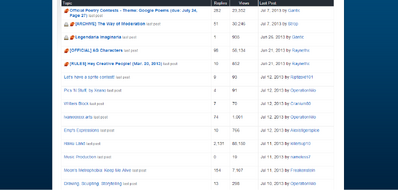 The Art, Music and Writing subforum of the Forge is also called the AMW. Although the Music part tends to be inside of the Tavern or the Popular Media section, the AMW is where people go to post their own personal works. If you write poetry, you can make your own thread and update it with your own pieces. The same thing applies for music or art. 
Thread Types
Edit
Most of the threads in the AMW are people's own personal poerty threads. There are also contests such as the General Poetry Contest, in which the winner of the contest recieves a merit. The GPC also hosts the Haiku contest, which also gives a merit prize to the winner. In previous years, people would create their own sort of contests, which would pressure users to only use a single type of poetry, like a Tanka. If the contest recieved enough attention and kept enough users actively participating, they could become merit contests. 
But personal threads and contests are not all that the AMW provides. There are sometimes writers who try and make a story using actual AG users and their personalities and such. Strop, one of our moderators has done such a story. It is called the WoM, or Way of Moderation, and has recieved over two million views. 
Another very popular thread in the AMW is First Line Poetry, or the FLP. The person above you gives you the first line of a poem you can choose to write. It helps challenge poets of all sorts and can be very fun. But there aren't just poetry threads in the AMW! There aren't a lot of popular art threads that include all users, but that doesn't mean you can't create one. The AMW is the place where creative people can all come together and share ideas and critique each others work, to try and help each other improve in their respective abilities.