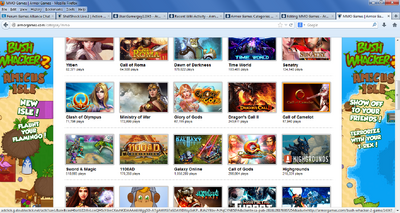 This is the list of the MMO Games on Armor Games, which you can find here.Edit
MMO games were first incorporated into Armor Games' library in August 2012. The very first game, Swords and Potions, was a sellout success. Success was supposed to follow, and in many ways it did. MMO games have not only made their home at Armor Games but have also redefined the state of the library. No longer is Armor Games a small time website for free Flash games, but MMO games opened to the door for Armor Games to become a blockbuster-izing game distributor with millions playing amongst themselves everyday. 
When MMOs came out, Armor Games customized the site's background to match whatever the newest game was. This caused some controversy because many ads were of bad taste and sexual. 
MMOs continue to thrive in Armor Games' large library and are going nowhere soon.
List of MMO Games
Edit
#
B
C
D
E
F
G
H
K
L
M
P
S
T
W
Y