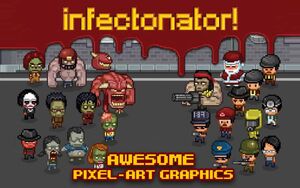 Armor Games carries a multitude of puzzle & skill games. Some of the highest rated games in the section are Infectonator WD (3.5m plays; 9.4/10), This is the Only Level (9.5m plays; 9/10), Doodle God (2.8m plays; 9/10), and the Company of Myself (2m plays; 9/10).
This is the Only Level
Edit
This is the Only Level is a P&S series created by John and published by Armor Games. The first three games were designed by John and colored by Jimp. The iconicy of the series relates back to Armor Games, primarily Jimp's identifiable graphics and the lovable blue elephant. The series hasn't always enjoyed good criticism, however. The fourth addition was badgered by the commuity as being "sellout-ish, blasphemous, sucky" as the game wasn't designed by John. The game suffers a 4/10 rating while the other three enjoy a hefty 8.5-9 rating. The game also excluded the blue elephant; instead being a green walrus.
Infectonator
Edit
Infectonator is one of the most popular non-exclusive games on Armor Games. The series won the 2012 GOTY award (specifically the mobile version) and each game enjoys a 9+ rating out of 10. Each game in the series is somewhat of a spinoff, consisting of new powers, abilities, areas and other delicious material. The series has expanded to include its own iOS and Google Play apps, DLC and Game Center challenges.