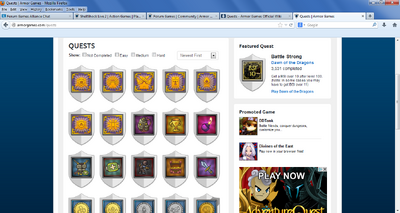 Quests on Armor Games are achievements in different games you can attempt, with successful completions being denoted by badges on one's profile. An Armor Games account is required to start earning Quest badges. Quests are completely optional and the only reward is bragging about how many quests you have completed in a mad dash to scramble up the Quest Leader Board. The way to view what you need to do to complete a quest is to hover over the picture of the quest and it will tell you what you have to do. Once you complete the quest it will show up on your Armor Games profile.
This is also a subforum of the Gaming section. This is one of the smallest subforums. It is mainly composed of "How to" types of threads and there are other threads reporting glitches for the Quests as well.  Since quests are still being added, the quest subforum will certainly continue to expand indefinitely until the heat death of the Universe. We all want AG to go on indefinitely don't we?  
Examples of some Quests
Edit
These are some pictures of what quests look like.
Games with quests
Edit
- Battalion Commander
- Bit Battles
- Bubble Tanks 3
- Burrito Bison Revenge
- Cactus McCoy 2
- Caribbean Admiral
- Castaway 2
- Catapult Madness
- Chibi Knight
- Chuck The Sheep
- Coinbox Hero
- Crush the Castle Adventures
- Cursed Treasure 2
- Dawn of the Dragons
- Decision 2
- Demons vs Fairyland
- Epic Battle Fantasy 4
- Epic Combo Redux
- GemCraft Labyrinth
- Give Up
- Hands Of War 3
- Help the Hero!
- House of Wolves
- Incursion 2: The Artifact
- Infectonator 2
- Insectonator: Zombie Mode
- Into Space 2
- Jacksmith
- Kingdom Rush
- Kingdom Rush Frontiers
- K.O.L.M.
- Monster Bark
- Monsters Den Chronicles
- Papa's Freezeria
- Ragdoll Achievement 2
- Railbot
- Road of the Dead 2
- Sequester
- ShellShock Live 2
- Sinjid
- Sushi Cat 2: The Great Purrade
- Strike Force Heroes 2
- The Gun Game 2
- The King's League: Odyssey
- The Last Stand: Dead Zone
- This is the Only Level 3
- This Is The Only Level 4
- Tower of Doom
- Treadmillasaurus Rex
- Zombotron 2
- Zombotron 2: Time Machine